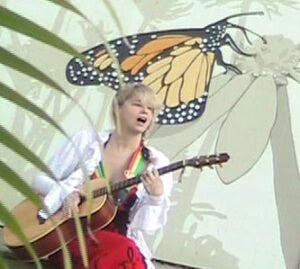 Music in Tampa Bay is proud to recommend Dunedin music teacher Bonnie Bowers. Bonnie is a world class performer who brings all her experience to each of her students. She provides kids music lessons and adult music lessons.
Bonnie Bowers teaches a variety of subjects:
Bass Lessons – Beginner to Intermediate
Guitar Lessons – Beginner
Piano Lessons – Beginner
Violin Lessons – Beginner
Vocal Lessons – Beginner to Advanced
Composition
Arranging
Music Production
Group Classes
Specialty Training – Ensemble, Stage Movement,
Vocal/Instrument Multitasking
Mission Critical Performance Coaching
Bonnie is also a Zoom music teacher providing Zoom music lessons worldwide. She can also use other remote technologies such as Skype.
As a Zoom music teacher Bonnie Bowers is upbeat, patient, and supportive. Because of her professional experience as a performer and recording artist, she has a unique ability to connect with her students on different levels.
To discuss lessons you can call 727-279-7000 or email lessons@dunedinmusicteacher.com.